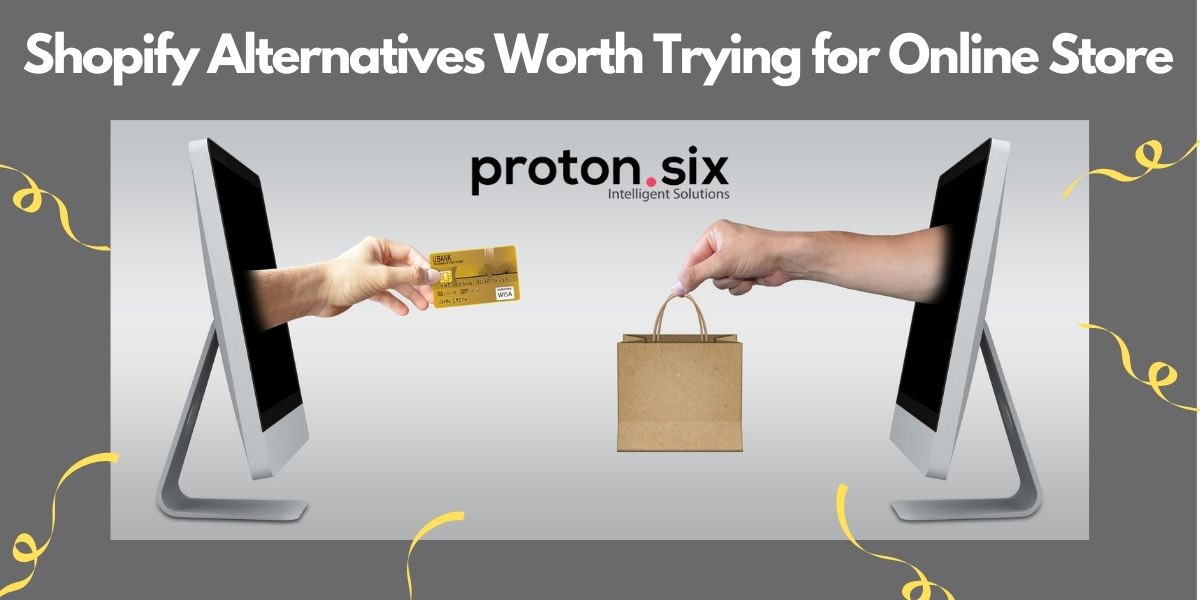 Shopify has now become synonymous with E-commerce. However, the popularity of Shopify has led many new entries to the online marketplace.
With over 1,000,000 E-commerce platforms using its services. It has become a conventional name in the niche that is eCommerce, and it isn't fading anytime soon.
That being said, Shopify and other related eCommerce websites are expected to rise in the coming future.
However, Shopify lacks some aspects like a blogging system, SEO system, ability to update inventory stocks, etc., which might not work for some businesses. Thus, it's best to research the aspects of various eCommerce platforms and what features they offer before choosing one.
For an emerging business, key factors such as easy accessibility and smooth transactions should be considered.
Thankfully, with the increasing usability of the internet, Shopify is no longer the only option, and tons of alternatives have come up. Without further ado, let's look at some of the best Shopify alternatives.
WooCommerce
You can guess this platform's popularity from the statistics that say nearly 1/3rd of online stores use WooCommerce for their Ecommerce services.
It is a free plugin of WordPress, which means you need to have a WordPress website to use its services.
However, don't let it fool you. It has a huge amount of crazy good features which you can use without emptying your pockets. The platform is known for its flexibility in website designing and customisations.
Some of its merits include a better user-friendly experience. Apart from hosting and domain fee, most of its services are available for free.
WooCommerce can be considered amongst the top competitors of Shopify.
Wix
Wix might be the most popular amongst small and medium-sized businesses with its simple to use features like drag and drop. It probably is the best option for a first time user, and you don't need core tech knowledge to use Wix. It's as user friendly as it can be.
Wix is a convenient website builder, which is a plus point when compared to WooCommerce and other more complicated platforms.
It offers a variety of templates to choose from, and you have the freedom to choose your building methods like Wix Web Editor and Wix ADI. The former one is used for the drag and drop feature whereas, the latter option helps you build a customised website according to your preferences.
However, it has cons as well. It is not one of the best options if you're looking for massive growth, especially when compared to Shopify.
You can't have your domain name and will be bombarded with Wix Ads if you don't buy a good plan. It also lacks in providing a variety of payment options that might hamper your growth, both locally and globally.
3dCart
3dCart gained a lot of momentum after Amazon announced that it is their preferred platform for eCommerce services. The platform is tailor-made for all your technical needs and includes over 200 built-in features. It is apt for non-technical folks, it saves their time so that they can focus more on business.
Since SEO is one of the most important aspects of online business, 3dCart does have stronger SEO conduct than other alternatives. It has an option of more than 70 payment gateways and a free domain name, which is hard to find.
Like everything, it has few drawbacks. It doesn't have a good support system, plus theme designs are a bit outdated and rigid. Despite it being easy to use, it can create a problem when one needs to edit HTML or CSS.
Volusion
One of the most popular options, Volusion is known for its reliability since it is going strong for more than 20 years. It is quite similar to Shopify in terms of cost and a Saas platform. It also helps with most of the technical aspects, which is a plus.
Volusion is a good option for those who want to excel in their business. In terms of features, it offers great shipping options, safe transactions, and no transaction fee. It has a great mobile app that makes this platform easy to access.
Some of its cons include, limited apps, fewer features, and the pricing are almost the same as Shopify.
Magento
Magento is used by some of the big names in the eCommerce industry and has a well-established community globally. It is also an open-source platform and is free apart from charges of hosting and themes.
Magento has a lot more features than Shopify. It has an integrated national and international check out system including shipping and payment.
You have full ownership of your domain and zero transaction fee. The best feature is its customisation.
However, it being free from all ownership, you wouldn't get any help in terms of technical aspects. Although it might first look like an inexpensive option, 'other' fees like hosting, plug-ins, themes can increase the cost.
If you are new to E-commerce then this is a huge opportunity for you. As a business owner, you can choose your E-commerce platform from the above-given options. Also, test and evaluate each platform and see what works for you.
If you need any assistance or want to know the things considered during eCommerce website development, Proton6 is there for you. We work on Woocommerce, Opencart, and Magento. We can help you in creating your first e-commerce store or can help to move your existing store to a new platform.
Get in touch with us at info@proton6.com or call 0121 296 4626 and let's take things further.